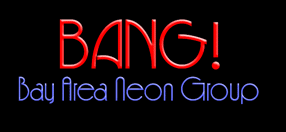 News flash! -- BANG! is looking for someone to share our studio space
Our Mission:
BANG! is a group of artists exploring neon as a medium for art. With our own complete neon shop, we have full access to the entire process of making neon so we can learn and experiment freely on our own, so as to push the medium as far as we can.
Note that we are neither a sign shop nor school.

Membership:
If you are someone wanting to explore neon as an artform, and you have at least some bending experience, contact us for more information on joining BANG!