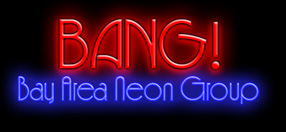 Mr. Foo's Gallery
various creations by Mr. Foo
---
---
November 18, 2004: Purple Lamp
August 31, 2004: Neon Tree and FKO sign at Burning Man 2004
---
Purple Lamp
November 18, 2004
Foo made this nice purple lamp for da rAnCH
---
Photos by Kiki.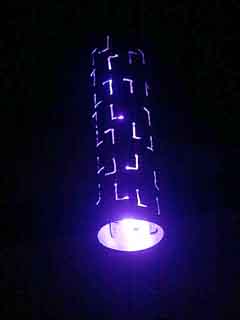 lamp.jpg
403k
---
Neon Tree and FKO sign at Burning Man 2004
August 31, 2004
Mr. Foo and T-Girl created this tree for Burning Man 2004.
Mr. Foo also created the FKO sign -- referencing the old RKO symbol --
for Tom McCarty's tower.

The FKO could be seen [if not read] from across the playa!

The Tree collected bikes during the Temple Burn -- a marker for those
hoping to find their bikes again. :)
---
Photos by Gibbon.

fko_0803.jpg
44k

fko_spot.jpg
31k

tree_people.jpg
20k