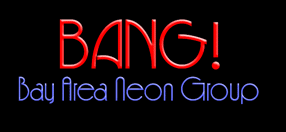 WANTED: Neon artist to share shop!
1/2 studio for yourself -- to use how you please
1/2 for the club -- with access as a club member
175sqft -- share 350sqft with a full neon studio
$195/mo -- Split $350/mo +$20/mo for each key
Warehouse [cAtAcLiSmIc mEgAshEaR rAnCh]:
on Van Dyke near 3rd St., Bayview, San Francisco
2-story warehouse shared with 25 other artists
Great community, lots of talent
Shared livingroom and kitchen
(couches, wood stove, stage w/ brass pole, bar,
microwave, charcoal grill, in-house vending machine)
Hot tub outside
Occasioanl legendary parties


We are looking for someone who is energetic, responsible, has been in a share situation, and has some neon experience. We are looking for someone to inspire as well as be inspired!
We have a full neon shop and a large assortment of lead glass tubing. We are not a sign shop, but artists wanting to have our own shop so we can learn and experiment with neon and plasma.
We are expanding our manifold to include xenon and krypton and we'll be adding a kiln for oven-pumping for single-ended neon and plasma art -- so we need to expand our studio space.
Please contact us for more information.