The Quadrant
Placement of the containers
---
January 30, 2002: General layout and placement
January 29, 2002: Dave Capurro visits
January 12, 2002: Kiki and Teiwaz paint the downstairs
November 5, 2001: Some quick snapshots
Kiki's photos
panaramas's photos
---
General layout and placement
January 30, 2002
Some quick snaps as we set up the metal shop.
The walls are now cut out, and this is the first
we're able to move in!
---
Photos by Kiki.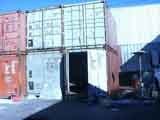 outside_front.jpg
87k

front_left.jpg
73k

back_left.jpg
67k

right.jpg
65k
---
Dave Capurro visits
January 29, 2002
David Capurro -- aka the.electronic.yo-yo -- came over to visit the shop.
He played with the neon workshop and bent some practice glass.

Now, if only we could make neon fit in a yo-yo! :)
---
Photos by Kiki.

Dave_bends_neon1.jpg
35k

Dave_bends_neon2.jpg
40k

Dave_bends_neon3.jpg
44k

Dave_bends_neon4.jpg
36k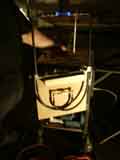 cannon_fire.jpg
44k

Ah_Yo-Yo.jpg
35k
---
Kiki and Teiwaz paint the downstairs
January 12, 2002
This painting job took many days, maybe weeks, to finish...I forget.
It was a lot of work, but so well worth it!
The shop really lights up because of the paint, as you can see...
---

Photos by Kiki.
The day/night pictures compare and contrast the difference between
painted and unpainted contianers.

As you can see,
a white-painted container is far, far brighter.

The first two have the camera set for equal settings.
The second two are simple snaps with auto settings.



painting1.jpg
41k

painting2.jpg
49k

day.jpg
22k

night.jpg
15k

day_unequal_lighting.jpg
30k

night_unequal_lighting.jpg
26k
---
Some quick snapshots
November 5, 2001
I just took some quick panaramas and snapshots of the Fortress in progress.

Jeff, Ryon and I unloaded 5 more boxes today.
---

Photos by Kiki.
Kiki and Sparky's little corner of the world.



passageway.jpg
124k

skyscrapers.jpg
95k

Sparky_Kiki_inside.jpg
136k

Sparky_Kiki_side_door.jpg
139k

Sparky_Kiki_side.jpg
148k
---

Photos by panaramas.
Panaramas of the whole lot.

Note: Low res versions first, hi res second



center_lo.jpg
157k

south_lo.jpg
137k

west_lo.jpg
108k

center_hi.jpg
1m

south_hi.jpg
965k

west_hi.jpg
691k