Firefall
---
Firefalls in the news:
SF Chronicle -- Apr 5, 2002
Short mention and a photo:
"Kiki Pettit checks the water flow
for her "firefall" fountain that she's preparing for an art exhibition."
SF Weekly -- Feb 13, 2002
Short mention, among many other artists:
"folks huddle around the Firefall,
a large birdbath of flaming water created
by Shipyard artist Kiki Pettit."
Nervy Girl -- Jan/Feb 2002
An article on women artists at Burning Man
(I was one of three featured artists)
Leonardo Journal -- Gallery (on-line)
Special Burning Man section -- guest editor, Louis M. Brill
(I was one of the first ten featured)
SF Weekly, Jan 26, 2000
An article about the Crucible Fire Feast, mentions the "Fire Cauldron"
aka The Cauldron.
SF Chronicle -- July 9, 1999
This photo was the main picture for an article
about the Crucible Fire Art Festival.
(The cover photo is the Ceramic Thing)
This was on the front page of the Arts section:
"Viewers can put their hands into a stream
of water and fire in the sculpture 'Firefall.' "
---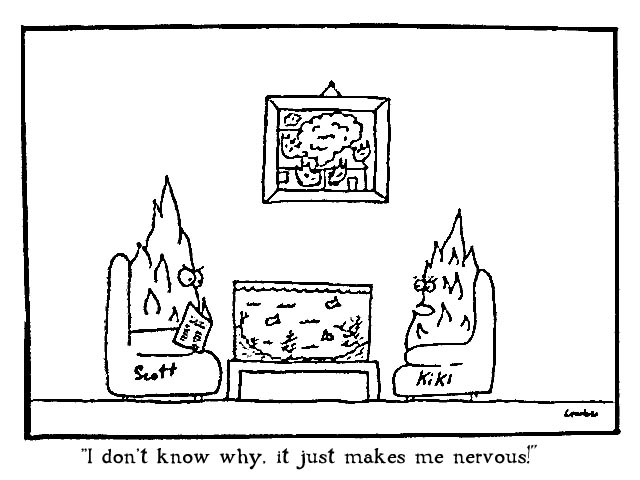 "I don't know why, it just makes me nervous!"
This cute card was sent by my "other" mom [by marriage].
She's not too keen on our fun. :)
[She has spent her career working in a burn unit,
so she has good reasons to be nervous...]
But she's understanding.
---
Other fire fountains:
Eddie Egal in Germany has made some interesting fire/water art!
Here's Eddie Egal's Fire Shower
And here's Eddie Egal's lovely fire fountain
The famous Mirage Volcano in Las Vegas
A company called Legacy Effects that has a gas flame fountain
An article in Pool&Spa about the above company
Mitsui Fire Fountain in Los Angeles
---
Yosemite Firefall history
Long before my little idea...
The title photo is breath-taking!
Let the Fire Fall
Here's a lovely story about the Yosemite Firefall.
Yosemite Firefall poem
The same folks above sent me a link to this poem too.
Firefall, the music group
I think they were recently here in SF...
---
Some interesting links:
The differences among gasoline, diesel, naphtha, etc.
bilad al-naffata, "the land of the naphtha fountain."
Here's a bunch of pump links I found.
A poem written for The Cauldron
Please send me any more interesting links you find!