---
Middle and top bowl together
July 15, 2002
These are the two pounded parts of the bowls together.

It's so lovely to me it makes my heart skip a beat!
---
Photos by Kiki.

together.jpg
58k

two_bowls.jpg
58k
---
More pounding of the middle bowl
July 14, 2002
We finished up the middle bowl pounding!
We also started to set up the copper for the bottom bowl to be welded.
---
Photos by Kiki.

middle-pounding.swf
5.5m

06_everyone_pounding.jpg
69k

17_Kiki_inspects.jpg
61k

18_measuring_depth.jpg
73k

32_while_Scott_sets_up_copper.jpg
65k

38_Richard_checks_curvature.jpg
71k

41_Kiki_can't_not_help.jpg
74k

48_Kiki_tries_hammer.jpg
71k

54_declared_done.jpg
70k

57_admiring_the_bowl.jpg
73k

58_middle_bowl_done.jpg
74k
---
Work day with John D.
July 13, 2002
John came over for a work day saturday.
We played with the top bowl on the life sized model,
and cut the walls for the middle and bottom bowls.
---
Photos by Kiki.

can_you_feel_it.jpg
67k

top_bowl_side.jpg
62k

life_size_model.jpg
52k

Atlas.jpg
57k

support_test.jpg
47k

copper_reflection.jpg
55k

green_beam.jpg
62k

shooting_star.jpg
66k
---
Middle bowl pounding
July 1, 2002
This is the first phase of pounding the middle bowl.

We got about a foot from the edge pounded.
Which is actually a lot, since this is where most of the curvature is.
---
Photos by Kiki.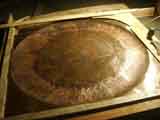 275_first_pass_finished.jpg
55k

007_attaching_to_platform.jpg
72k

037_Kiki_and_Steve_pound.jpg
38k

051_more_annealing.jpg
41k

056_Steve_sprays_water.jpg
41k

076_crazy_truck_Dan_comes_by.jpg
37k

079_Kiki_sits_in_bowl.jpg
37k

087_pounding.jpg
39k

094_pounding_seems_too_hard.jpg
43k

098_more_annealing_needed.jpg
43k

125_Jim_checks_it_out.jpg
32k

245_edges_well_rounded.jpg
29k

263_pounding_closeup.jpg
55k

closeup.gif
1.8m
---
Piecing the middle bowl copper, part 2
June 10, 2002
This is the second day of welding the main pieces together for the middle bowl.

I got ''official'' TIG wire, and it was *horrible*!!
Caused the holes to get much bigger!

So I returned it and went back to the craft wire I was using...
---

Photos by Kiki.
Some of these photos look like paintings!
The copper heat-coloring is sooo lovely!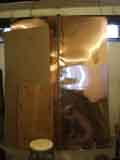 all.jpg
42k

like_a_painting.jpg
46k

pillar_of_colored_flames.jpg
34k

color_flame_markings.jpg
36k
---
Here's some details of the welds themselves.

good_weld.jpg
29k

good_penetration.jpg
45k

poor_penetration.jpg
34k
---
Here's that horrible ''official'' TIG wire.

yucky_TIG_wire_hole.jpg
28k

yucky_TIG_wire_hole_closeup.jpg
42k
---
Piecing the middle bowl copper, part 1
June 9, 2002
We took two sheets of copper to Greg's house to piece together.
This made a 6x8 sheet.

We still have to cut 1' from the long end and weld it to the side to
make a 7'x7' shape.

The welding went *much* better -- I'm getting better at welding copper!

However, we had much more warping problems,
because the sheets were longer and the warps misshaped it much more.
---

Photos by Paula Adams.
There wasn't so much to do, so Paula snapped some pics.
Some of these are really neat!



tack_welding.jpg
37k

welding_closeup.jpg
42k

welding_reflection1.jpg
46k

welding_reflection2.jpg
35k

holding_against_warping.jpg
41k

Kiki_Greg_inspect_weld.jpg
42k